You Don't Need College to Make a Good Living
Submit to del.icio.us
|
digg it!
|
Submit to Slashdot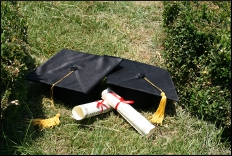 Guest post by Dee from SI Certs (he's my older brother)
One of the biggest misconceptions today is that you need to get a college degree to make a decent wage. Sure, you may have heard of famous college dropouts that made it big like Michael Dell, Bill Gates, Steve Jobs, and Simon Cowell. But many regular people are earning a good amount of money without a degree too.
Especially with today's insane college costs, it's a good idea to investigate other options before enrolling in a degree program. Also, a degree is so common these days. It's like what a high school diploma used to be. Everyone has one so it's hard to stand out from the crowd of job seekers.
But what if you avoided the marketplace for college graduates and instead entered an industry where degrees didn't matter? By adopting this strategy, you can save lots of money and not have to compete with the hordes of people that believe that a degree is the ticket to making money.
My Story of Self Education
A couple years ago, I started researching making money online. I was sick of my 9-5 corporate job and want the independence and autonomy that comes from running your own business, working at home, and setting your own work schedule. I stumbled upon search engine optimization (SEO), which is basically helping sites get more traffic from search engines like Google. I spent the next couple of years researching this field and trying out different experiments to improve my skills.
Once I got semi-proficient, I began to advertise my services. Soon, I had some clients for small projects. I learned a lot from those projects and felt confident enough to raise my rates. Today, I make more than I did in my corporate job. I work 30 hours a week for a great client and I also earn a part-time income from my own sites.
The SEO industry is a great example of an industry where degrees don't really matter. None of my clients ever asked me if I had a degree. They just wanted to know if I had the skills to increase their site's traffic.
As the internet has gained mainstream use, making money online has become a good option for more and more people. For example, if you can develop great web software, design excellent websites, or write engaging web content, you have a good chance of doing well in the online workforce. You'll probably have to learn how to promote yourself but once people know about your skills, you can leverage that and build up a steady client base.
Offline Options
The internet is not the only place to find good niches that don't require a college degree. One of my best friends makes a good living as a special inspector for commercial buildings. All you need to qualify for his job is pass a couple certification exams. With a couple months of studying and a good online course, you can pass the exams yourself. No need to spend four years or more in a college classroom.
My brother-in-law is in a similar position. He works in construction and he makes a good amount of money. He manages other people and he never earned a college degree.
One option to consider is just getting your foot in the door of a good company and work your way up. Think about the stores where you regularly shop at. Have you ever considered working for them and then moving up to a management position? Those positions generally pay well.
I knew someone who worked at Lowe's. He didn't have a degree. Yet, he was able to move up to a lower level management position by working hard, proving himself, and impressing his supervisors. He told me his goal was to become store manager in a few years.
If you do need a degree to get promoted, the company might even pay a good chunk of your tuition so you don't have to take on a lot of debt like the average college student.
Sales is always good a bet if you're able to develop selling skills. My corporate job before I started my own business was doing accounting for a car dealership. Let me tell you, the skilled salespeople in the dealership made a lot of money and none of them had a degree. And it wasn't just the car salespeople. The people that sold car warranties also earned a decent wage.
If you do go the college route, make sure you're getting relevant work experience. And do what Allan is doing. He's getting a pharmacy degree, a degree in a field that pays well, has a lot of open positions, and has low competition. The Occupational Outlook Handbook is a good place to evaluate different industries and jobs.
Whatever you decide to do for your job situation, make sure to do enough research. The main things to consider are the wages, the competitiveness of the industry, and the cost to qualify for the jobs.
Subscribe to The Information Bank by Email |
Submit to del.icio.us |
digg it! |
Submit to Slashdot
Posted on Saturday, April 9th, 2011
Leave a Reply
You must be logged in to post a comment.