The Difference Between a Hotel and a Ryokan (Traditional Japanese Inn)
Submit to del.icio.us
|
digg it!
|
Submit to Slashdot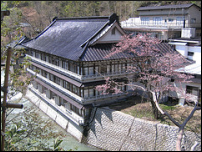 When you travel to Japan there are two main choices for accommodation, a typical western style hotel or a traditional Japanese inn – known as a ryokan. Typical hotels are more common in the cities where there are lots of business travelers, but you can still find ryokan in most places. They are more common in the countryside and those with a beautiful setting or hot springs often charge more per night.

Bathing
There are several differences between typical Japan hotels and ryokan. Whereas most hotels pride themselves on their modern amenities such as power showers and flat-screen televisions, ryokan are very traditional, with an emphasis on good service and comfortable surroundings. Most feature traditionally constructed guest rooms, with sliding doors and tatami mats covering the floor. Rather than a bed frame and mattress, guests sleep on futons which are stored during the day and rolled out onto the tatami mats just before bedtime.
In a ryokan, guests are provided with a pair of slippers to wear, and it is important to remember to take off your shoes before stepping on the tatami mats. Guests are also provided with a light robe called a yukata to wear after bathing. Typical hotels normally feature bathing facilities in each room, but at a traditional ryokan, communal bathing areas are provided. These are single sex areas featuring a large tub of warm water to soak in. You should make sure you rinse off before and after using the tub, and don't forget to leave the plug in! Some more expensive ryokan will also feature private bathing facilities, especially those in areas which have natural hot springs.
Dining
In a hotel, guests usually dine at the hotel restaurant or at one nearby, offering flexibility of cuisine and timing. Ryokan staff pride themselves on serving good quality, traditional Japanese food. You will be expected to let the owners know in advance what time you would like to eat, in order that your food is served fresh and at the right food temperature. Breakfast and dinner are normally included in the price of your stay. Sometimes meals are offered in a communal dining room, but it is more usual for food to be served in your room, on a low table which is also used for taking tea at other times of the day.
If you want a modern, ultra-flexible stay, then a typical hotel may be more suited to your needs. If however, you want to try a slice of traditional Japanese culture, why not try a ryokan?
Subscribe to The Information Bank by Email |
Submit to del.icio.us |
digg it! |
Submit to Slashdot
Posted on Monday, May 4th, 2009
2 Responses to "The Difference Between a Hotel and a Ryokan (Traditional Japanese Inn)"
Hotel in Michigan Says:
May 21st, 2010 at 10:27 am

Hey there

Japanese Inn is not having high service assistants for your day and night demands whereas US hotels are number one for giving you luxuries…

Regards
Peter

Arlanza apartments ibiza Says:
December 23rd, 2010 at 10:49 pm

This is Sumeet from India.i really enjoy reading your post.Thanks for Sharing these useful information
Leave a Reply
You must be logged in to post a comment.